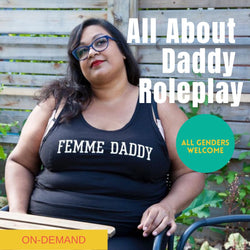 All About Daddy Roleplay Webinar
Do you have fantasies about daddy role play?
Daddy role play is a popular fantasy, whether the counter fantasy is of a 'daughter', 'neighbour', 'puppy', bottom or many other hot role play ideas. Daddy role play can be misunderstood, and some people who are into it can feel shame because they think it's wrong or they'll be judged. The reality is kinky play is usually about role play, erotic creativity and sometimes costumes, power, sensuality and connection. Build these skills with knowledge, practice and communication. 
Whether you're a daddy or an admirer of daddies, join this webinar with Luna Matatas and you'll get tips for:
Unpacking your daddy fantasy
Understanding erotic power exchange, dominance and submission
Daddy skills - communication, care, creativity
Daddy lover skills - communication, care, creativity
Daddy dirty talk
Enthusiastic consent
Types of Daddies
Tips for building bedroom confidence as a daddy or a daddy admirer
Navigating challenges, guilt and keeping it fresh
Busting gender norms and stereotypes about daddies

and more!
What is an On-Demand webinar?
On-demand webinars are replays of live classes. Once you have completed your purchase, you will be emailed a link to view the recording of this live class. You have lifetime access to the video, watch it whenever you'd like.
If notes or homework were a part of the class, you will also receive a link to download a PDF.