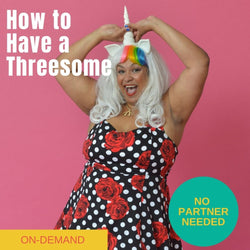 How To Have a Threesome Online Webinar
Want to turn this sexy fantasy into a reality?

Have you fantasized about a threesome? Unsure about how to approach a couple or a single for group sex? Want tips for talking to your partner about this sexy fantasy? Group Sex Goddess Luna Matatas will provide you with practical tools to explore a sexy landscape of more than two bodies.
We'll cover topics like:
From fantasy to reality – communication skills

Threesome etiquette and 'couples privilege'

How to find a Unicorn

Where to look for unicorns

Do I have to be bisexual to have a threesome?

Getting

 it started and keeping it going

Avoiding awkwardness

Managing physical and emotional risks (e.g. jealous, insecurity, fear)
This workshop welcomes inexperienced and experienced singles and couples of all genders to explore the ways to maximize pleasure in your threesome experiences.
All genders welcome, no partner or experience required
What is an On-Demand webinar?
On-demand webinars are replays of live classes. Once you have completed your purchase, you will be emailed a link to view the recording of this live class. You have lifetime access to the video, watch it whenever you'd like.
If notes or homework were a part of the class, you will also receive a link to download a PDF.