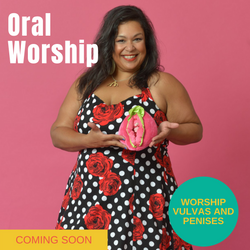 COMING SOON
Oral Worship Skills Online Webinar
Getting good at giving brings more pleasure for you and your receiver!
Oral Worship makes giving head an art of mutual erotic pleasure. Discover and arouse the pleasure of giving to your receiver. This workshop will explore:
Oral worship that involves multi-sensory techniques to pleasure your partner

How to give a better blow job by engaging your sensual self

Sexy strategies to help you get pleasure when giving head

Techniques that include combining hands, mouths and other body parts

What you need to craft an erotic oral scene

How to create rituals of oral adoration

Sensual communication tips that will delight the genitals you're pleasuring
Please note, this webinar contains no nudity or live body demos, this is a presentation style workshop. All genders welcome, no partner necessary!
This webinar is currently not scheduled, get on Luna's newsletter list to be notified when tickets can be purchased.