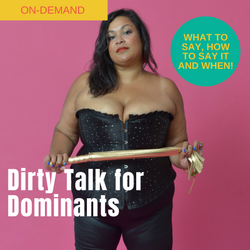 Dirty Talk for Dominants Online Webinar
Dirty talk can enhance the power in your power exchange!
How do you know what dominant things to say? When do you check-in? Join this workshop to explore your flavour of dominance communication and how to use roleplay, dirty talk and sensuality to heat up your dom dirty talk and keep consent a priority.
Learn how to keep the sexiness, dominance AND get clear communication to navigate situations like:
Checking in with submissives

Turning intensity up or down

Tuning into a submissive's character

Communication during subspace

Using safe systems without losing character

Empowering your submissive with communication within your roleplay

Virtual erotic power exchange (video chat, sexting, assigning tasks)
Please note, this webinar contains no nudity or live body demos, this is a presentation style workshop. All genders welcome, no partner necessary!

What is an On-Demand webinar?
On-demand webinars are replays of live classes. Once you have completed your purchase, you will be emailed a link to view the recording of this live class. You have lifetime access to the video, watch it whenever you'd like.
If notes or homework were a part of the class, you will also receive a link to download a PDF.