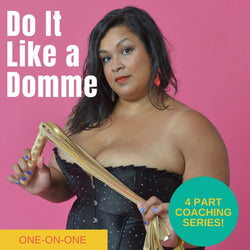 Individual Pleasure Coaching: Do It Like a Domme Femdom Coaching
Curious about femdoms? Let me coach you into your sexiest dominant self!
Dominance and submission in BDSM is an exciting way to explore erotic power exchange. Whether you're new to femdomming or have some experience and want to build skill - Do It Like a Domme Femdom coaching is all about deepening your kinky pleasure. 
If you're not sure what to do, how to keep the energy going, where to get started, how to have confidence in your role play - you're not alone! Femdom is a skill anyone of any gender can build. Some of us have been interested in kinky stuff for as long as we can remember, some of us are curious about feminine dominance and some of us here because our partner is into femdoms! Whatever your reason, feminine dominance skills bring you more confidence and empowerment in and out of the bedroom. We'll cover things like:
Developing a dominant role that suits your desires

Exploring erotic creativity through setting a scene

Discovering the use of rituals, totemic items and

How to do non-sexual submission and dominance

Play with intensity 

Understanding consent, checking-in

Emotional and physical safety

Exploring subspace and domspace

Learn about sensual dominance

Techniques for emotional and physical safety

Developing boundaries, rituals and aftercare

Find tips on connecting with the right submissives for you and where to find them

All About Pleasure Coaching
My Pleasure Coaching is priced on a sliding-scale. Sliding scales can support people of different incomes to access the same service. Some sliding scales suggest choosing a price within income tiers - I'm going to leave it up to you and what you feel honours my work and your life.

Here is a general guide:
Sliding scale 1 - income under 60K
Sliding scale 2 - income 60-100k
Sliding scale 3 - income 100k+
Occasionally I have capacity to open up Pleasure Coaching spots that are pay-what-you-can for BIPOC, disabled and Trans people with financial challenges - these will be advertised to my newsletter subscribers.
What is Pleasure Coaching?
Pleasure Coaching is not a substitute for therapy or other healing practices. It's a place to unpack barriers, set goals and develop practices so that you can have the kind of sex life you desire.
How do online sessions work?
All sessions take place online via Zoom and you can choose to participate via audio only or audio and video.
How do I book a specific date and time for coaching?
Once you have purchased your session, your confirmation email will include a link to Luna's calendar, where you can book your session. Coaching hours vary by day, typically between 11am-8pm EST Monday - Saturday. Other time zones may be accommodated depending on Luna's availability.
Do Pleasure Coaching Sessions expire?
Please book your Pleasure Coaching session within one year of purchase date. After one year, an administrative fee of 15% will be added if you still wish to book your session.
Can I book more than 1 hour?
Sessions can be booked 1 hour at a time or you can purchase a 2 hour session. Pleasure Coaching Sessions must be booked within six months of purchase date.
If you are in a timezone other than North and South America, email Luna at hello@lunamatatas.com for a customized coaching time.
What is the refund and cancellation policy?
Pleasure Coaching sessions are non-refundable. You will receive a Pleasure Coaching Agreement to sign that will outline cancellation policies and fees. 
Confirmed appointments are eligible for rescheduling up to 24 hours before the appointment time using the 'reschedule' option in your Calendly link.

After 24 hours, rescheduling is possible with a $50 fee you will be invoiced for.

No shows are called 10 mins after scheduled calls.

If you are late to your session, unfortunately, we will continue the coaching for the time remaining. No additional time will be added without cost.

If I need to reschedule, I will also give you at least 24 hours notice with an option of no-charge rescheduling.
Have a one-off question?
If you have a quick question that doesn't need a full hour of Luna's time - leave your question anonymously here and Luna may answer it during a Zoom Q & A or on social media. Sign up for my newsletter!