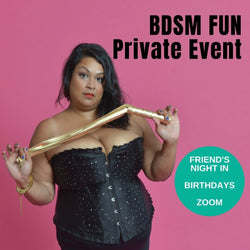 Private Event - BDSM Fun Party
Grab your friends, we're learning about kinky shit! 
Want to host a fun, kinky event for your friends? In-home (pending COVID restrictions) or online, Luna Matatas brings sexy tips and erotic techniques to your group of friends. 
Luna builds each BDSM Fun party with the needs and comfort of the group in mind. It's 50 Shades of Grey vibes but hotter...
What is BDSM?

Is it all whips and chains?

BDSM toy demo and tips

Being a fabulous femdom

Surrendering as a sensual submissive

Which sex toys are the best?




Consent and communication

Kinky and confident

Tips for sharing fantasies with your partner
What's included?
1-2 hour kinky skills workshops

Special gift for the host

Sexy samples for guests

Access to exclusive sex toy discounts

Online parties - Zoom party pack, custom playlist and recording provided
How do I book Luna for my event?
Fill out this form and let Luna know a bit more about your event!
Luna loves bringing sexy and fun tips to spouses-to-be of all genders, sexual orientations and ages. Luna is based in Toronto, Ontario - please include your location in your inquiry.