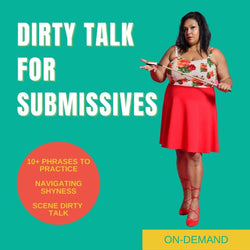 Dirty Talk for Submissives Webinar
Dirty Talk for Submissives
Submissive dirty talk can deepen the feelings of erotic power exchange. Learning what to say, how to say it and when to say it can empower your roleplay, increase communication and improve the connection with your dominant partner. This webinar will cover skills like:
Discovering power exchange intentions

Using roleplay to express dirty talk

Finding what language brings out your submissive feels

Techniques for dirty talk as communication in a scene

Exploring dirty talk as a tool of dominance and submission

Dirty talk vs practical communication

Navigating challenges like shyness, feeling silly and not knowing what to say

Erotic ideas for submissive dirty talk
You'll also receive a PDF of 10 pages of Bonus Submissive Dirty Talk Notes!
You must be at least 18 years of age to attend the webinar. No experience necessary. All genders are welcome. New to dirty talk? Check out my Dirty Talk Skills class. New to submission? Check out my Sexy Skills for Submissives class.
What is an On-Demand webinar?
On-demand webinars are replays of live classes. Once you have completed your purchase, you will be emailed a link to view the recording of this live class. You have lifetime access to the video, watch it whenever you'd like.
If notes or homework were a part of the class, you will also receive a link to download a PDF.