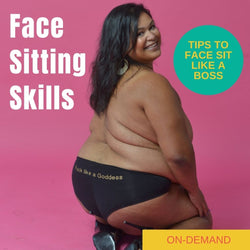 Face Sitting Skills Webinar
If I sit on their face, will they die? 
Do you think face sitting is hot but are worried about squishing someone's face?

Are you hungry to be on the bottom but don't know what to do with your arms?

Want to hop on and ride but your knees say 'nope!'?

Face sitting is hot for a lot of reasons and challenging for a lot of reasons. Any body and any gender can enjoy face sitting!

In this class you'll get skills for:

What to do on top

What to do on the bottom

How to communicate during face sitting

How to use positions and props to accommodate your bodies

Tips for rimming and cunnilingus

What to do with bellies, balls

How to feel confident on top and how to encourage your top to feel confident
All genders welcome, no partner or experience required
What is an On-Demand webinar?
On-demand webinars are replays of live classes. Once you have completed your purchase, you will be emailed a link to view the recording of this live class. You have lifetime access to the video, watch it whenever you'd like.
If notes or homework were a part of the class, you will also receive a link to download a PDF.