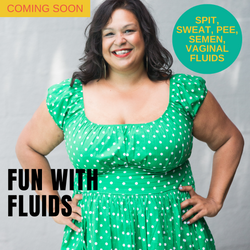 COMING SOON
Fun with Fluids Online Webinar
Want to have fun with sexy fluids, safely, creatively and shame-free?
From semen to squirting to pee – fluids can be make our sex lives juicier but can also come a mess, insecurity and a yuck factor. This workshop will discuss the fluids that can be involved in sex and pleasure:
How to have fun with fluids in foreplay

Improving communication with new and existing partners around cum, saliva, pee and other fluids

Practical tips for managing mess

Navigating shame or disgust around fluids

Health and safety for fluid sharing

How to create erotic scenes with confidence

Techniques for squirting, swallowing, watersports/pee play, saliva, facials and ejaculate
Please note, this webinar contains no nudity or live body demos, this is a presentation style workshop. All genders welcome, no partner necessary!
This webinar is currently not scheduled, get on Luna's newsletter list to be notified when tickets can be purchased.