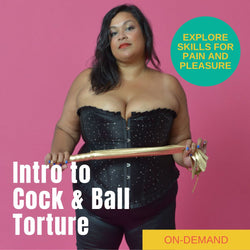 Intro to Cock and Ball T0rture Webinar (CBT)
Curious about erotic pain and pleasure? 
There's a delicious line between pleasure and pain. As extreme as cock and ball torture (CBT) may sound, the spectrum of pleasure for the penis and testicles is diverse and full of fun. The pleasure for the giver of CBT can also be a delicious dimension of sexuality to explore.
Learn what is CBT and why do people enjoy it

Basic CBT techniques (e.g. ball and cock slapping, pulling and stretching, chastity and cock cages, light bondage)

How to give and receive CBT safely

How to get creative with pain and pleasure

Knowing your way around penis and testicle anatomy

Understanding S&M (sadism and masochism)

Negotiating boundaries, limits and buzz kills for both tops and bottoms

Understanding consent during power exchange

Stages of impact play (e.g. warming, heightened sensation, cooling)

Sensual CBT

How to deliver aftercare for each other after the CBT fun
All genders welcome, no partner or experience required
You must be at least 18 years of age to attend the webinar. You do not need to have a partner or any experience to attend the webinar. All genders are welcome!
What is an On-Demand webinar?
On-demand webinars are replays of live classes. Once you have completed your purchase, you will be emailed a link to view the recording of this live class. You have lifetime access to the video, watch it whenever you'd like.
If notes or homework were a part of the class, you will also receive a link to download a PDF.