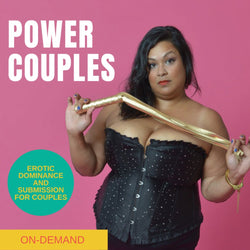 Power Couples: Erotic Dominance and Submission in Relationships Workshop
Do you want to explore dominance and submission with your partner?
Do you enjoy dominating your partner in the bedroom? Are you excited by the idea of sexual submission with your partner? Have you been wanting to bring up erotic power exchange in your relationship? Exploring dominance and submission in a relationship can be a sexy way to spice things up in the bedroom, explore fantasies and deepen intimacy. You and your partner might be curious about role play, impact play, fetishes or bondage.
Whether you get kinky every night or once and awhile, this class will cover:
How to talk about your power exchange fantasies

Getting started with dominance and submission

Communication in erotic power exchange

Keeping the kinky ideas flowing

Navigating BDSM desires in a relationship

What happens when one of you isn't into it

Boundaries, safety and aftercare practices

Developing kinky confidence with your partner
This workshop is for couples who are interested in developing a power exchange relationship or who want to work on deepening their D/s skills. Bring your partner, your curiosity and an open mind! All genders welcome. 
You must be at least 18 years of age to attend the webinar. You do not need to have a partner or any experience to attend the webinar. All genders are welcome!
What is an On-Demand webinar?
On-demand webinars are replays of live classes. Once you have completed your purchase, you will be emailed a link to view the recording of this live class. You have lifetime access to the video, watch it whenever you'd like.
If notes or homework were a part of the class, you will also receive a link to download a PDF.