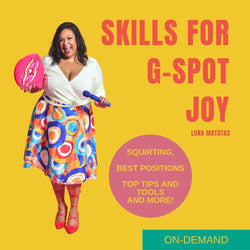 Skills for G-Spot and Squirt Joy Webinar
G-Spots, Squirting and more pleasure...oh my!
Curious about G-spots and squirting? Where exactly is the G-spot? How does it like to be stimulated? Can anyone with a vulva squirt? Is it pee?
Get the answers to these questions and more in this webinar. We'll be talking about:
Vulva Pleasure Anatomy
Busting G-spot and squirting myths
Porn vs. in real life
What G-spot sex toys actually work?
Different techniques for G-spot stimulation for partnered and solo sex
Managing squirting mess
...and more!
Whether you want to give G-spots pleasure or you want to discover more about your own - tune into this webinar, get tips and advice and discover new ways to give and receive more pleasure.
All genders and sexual orientations welcome. You do not need to have a partner to attend. Must be at least 19 years old to attend.
What is an On-Demand webinar?
On-demand webinars are replays of live classes. Once you have completed your purchase, you will be emailed a link to view the recording of this live class. You have lifetime access to the video, watch it whenever you'd like.
If notes or homework were a part of the class, you will also receive a link to download a PDF.