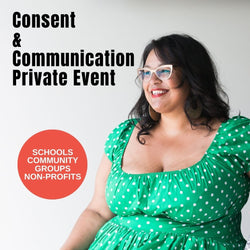 Private Workshop - Consent and Communication
Bring a consent and communication workshop to your group!
Consent and communication are skills that can be built with people of any age. Luna takes a trauma-informed, inclusive and shame-free approach to teaching consent skills and sexual communication practices. 

Luna Matatas has taught in-person and online for organizations like:
Planned Parenthood Toronto

Toronto Rape Crisis Centre (TRCC)

Seneca College

Glendon College

University of Toronto

Mohawk College

Humber College

Ryerson University

BIPOC 19+ Youth Groups
What's included?
Luna builds each consent and communication workshop with the needs and comfort of the group in mind. Topics include things like:

What is consent?

How do you communicate consent?

How do you deal with rejection?

How do you discover your boundaries?

Communication your 'yes' and 'no'
Book a short call with Luna to discuss or email her with your request.