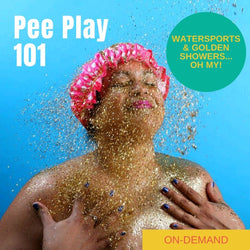 Intro to Erotic Pee Play Webinar
Watersports is a popular fantasy, but also one that may inspire shame and stigma.
Get your golden showers on with skills for managing mess, navigating shame and communicating your fantasies! Some of us enjoy sex with more fluids involved!
Urophilia is sexual excitement from the sight, sound, taste or smell of urine or the act of urination.  Sometimes shame, embarrassment or not enough facts can get in the way of us exploring our sexual arousal from urine. There are many ways on the spectrum of pee play to indulge yourself and your partners in a comfortable, safe and pleasureable way.
Not sure how to bring up watersports with your partner? Want to give a golden shower but have urination-shyness? Curious about whether it's safe to drink your partner's urine? Join me for this intro workshop to explore topics like:
What is urine play? (lingo, different types, common fantasies)

What is urophilia?

Urine-analysis: Is drinking urine safe?

Can you alter the taste?

How to play safely?

Communicating with your partner(s)

Spectrum of Pee Play Urine play and BDSM

Setting a sexy scene (equipment, clean up, roleplay)

Awkwardness: shy urinators, peeing while aroused and more
Please note, this webinar contains no nudity or live body demos, this is a presentation style workshop. All genders welcome, no partner necessary!
What is an On-Demand webinar?
On-demand webinars are replays of live classes. Once you have completed your purchase, you will be emailed a link to view the recording of this live class. You have lifetime access to the video, watch it whenever you'd like.
If notes or homework were a part of the class, you will also receive a link to download a PDF.