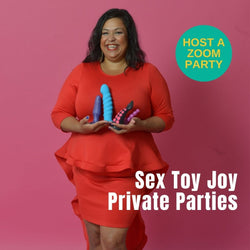 Private Event - Sex Toy Joy Party!
Grab your friends, we're learning about sex toys! 
Want to host a fun, sexy and entertaining party for you and your friends? Luna loves bringing sexy tips and erotic techniques to sex toy home parties offered in-person or via Zoom. 
Which sex toys are the best?

What kinds of sex toys are there for couples?
How to bring sex toys into the bedroom?
What lube is the best?
Tips for mixing up masturbation
Different ways to initiate sex

How to bring more sensuality into your sex life
Tips for sharing fantasies with your partner
Communication skills for building hotter sex
Ideas for surprising, delighting and teasing your partner
Fill out this form and let Luna know a bit more about your event!