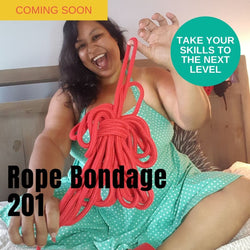 Rope Bondage 201 Webinar
Take your rope bondage skills to the next level of play!
If you're looking to take your rope skills to the next level, sign up for this fun and hands-on class. Rope bondage is a sexy and creative form of erotic restraints. You can create sexy bedroom scenes with your rope skills and enjoy the aesthetics, the sensations, power exchange and add spice to things you already like to do in bed. In this class we'll cover:
Establishing emotional and physical safety
Setting up a rope bondage scene
Communication and confidence
We'll practice techniques for three binds
This is not a beginner class - you will need basic knowledge of rope safety and how to do single and double column ties. Not good with knots? No problem, this class focuses on your creativity, communication and sensuality If you want a beginner class check out my Rope Bondage 101 classes. 
All genders are welcome, no partner required - but there will be practice time where you'll get the most out of being paired up with someone in the class.