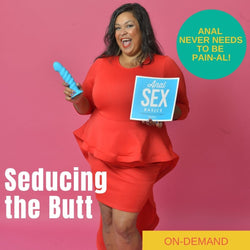 Seducing the Butt Webinar
Want to learn how to give and receive anal sex without pain or shame?

Anal sex can be intimidating and amazing all at the same time. There's so much more to anal joy than just penetration. The key ingredients to awesome anal? Patience, Play and Lube. Learn about how to warm up an ass without being an ass!
I'll teach you techniques to sex-a-fy your anal play and increase pleasure. You'll learn:
Anal Pleasure Anatomy
Annalingus (rimming)
The joy of butt toys
Avoiding pain
Hygiene and sexual health precautions
3 techniques for external anal play
Sensation Play (e.g. spanking, temperature, texture)
Please note, this webinar contains no nudity or live body demos, this is a presentation style workshop. All genders welcome, no partner necessary!
What is an On-Demand webinar?
On-demand webinars are replays of live classes. Once you have completed your purchase, you will be emailed a link to view the recording of this live class. You have lifetime access to the video, watch it whenever you'd like.
If notes or homework were a part of the class, you will also receive a link to download a PDF.