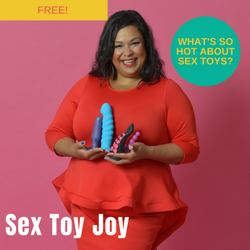 FREE! Sex Toy Joy Online Webinar
All About Sex Toys!
My Sex Toy Joy webinar will answer your questions about how to bring sex toys into the bedroom, shopping for toys, toys for penises, vulvas and butts, mixing up self-pleasure techniques, using toys together or solo and more!
Please note, this webinar contains no nudity or live body demos, this is a presentation style workshop. All genders welcome, no partner necessary!
Once you add this purchase and check out, you will receive a link to view the webinar. Enjoy!