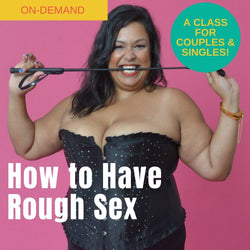 How to Have Rough Sex Webinar
Are you and your partner into rough sex?
How do you have fun AND keep it safe? Rough sex can be an intense and sexy experience, but it can also come with risks. What exactly is rough sex? Why are some people into it? Is it dangerous? In this workshop we'll cover:
Emotional and physical risks of rough sex

Communication before, during and after rough play

How to be romantic and rough

How to explore if you're reluctant but curious

Navigating rough sex desires - from fantasy to reality

Safety, consent and communication

Practical tips for spanking, hair pulling and restraints
Please note, this webinar contains no nudity or live body demos, this is a presentation style workshop. All genders welcome, no partner necessary!
What is an On-Demand webinar?
On-demand webinars are replays of live classes. Once you have completed your purchase, you will be emailed a link to view the recording of this live class. You have lifetime access to the video, watch it whenever you'd like.
If notes or homework were a part of the class, you will also receive a link to download a PDF.