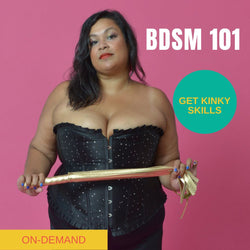 Thinking about getting kinky?
Discover your kinky side by exploring popular BDSM skills like power exchange, bondage, impact play and more. Learn skills in sexy communication, roleplay and using kinky gear. Find out where to meet other kinksters and take part. This workshop will explore topics like:
How do I get started with kink?

What if I feel shy or shameful about my desires?

How do I turn my kinky fantasies into a reality?

How do I share my fantasy with my partner?

What do I need to know about emotional and physical safety?

What are popular kinky activities that I can try?

How do I choose kinky tools/gear?
Whether you're just curious about BDSM fantasies or are ready to indulge in kinky sex, you'll get an erotic foundation in this workshop that will guide your exploration. 
What is an On-Demand webinar?
On-demand webinars are replays of live classes. Once you have completed your purchase, you will be emailed a link to view the recording of this live class. You have lifetime access to the video, watch it whenever you'd like.
If notes or homework were a part of the class, you will also receive a link to download a PDF.