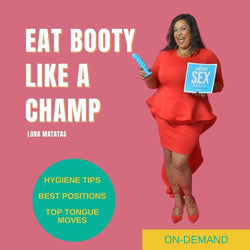 Eat Booty Like a Champ Webinar
Are you hungry for bootyholes?
Eating ass is also known as: rimming, analingus, eat it like groceries, tossing salad, playing the rusty trombone or licking the chocolate starfish.
Eat Booty Like a Champ by learning skills like:
10+ techniques to eat booty like a champ
Tips for communication and how to ask for ass eating
Finding confidence in giving and receiving analingus
Techniques for seducing the butt
Positions for eating ass
Navigating common rimjob challenges
Ideas for rimming fantasies and role play
Rimming prep, hygiene and safety
This class is suitable for beginner butthole eaters or intermediate rimmers who want to upgrade their skills! There is no nudity in this class. This is a presentation style webinar. If you're attending live, you'll be able to ask questions through chat.

You must be at least 18 years of age to watch the webinar. You do not need to have a partner or any experience to attend the webinar. All genders are welcome!


What is an On-Demand webinar?
On-demand webinars are replays of live classes. Once you have completed your purchase, you will be emailed a link to view the recording of this live class. You have lifetime access to the video, watch it whenever you'd like.
If notes or homework were a part of the class, you will also receive a link to download a PDF.