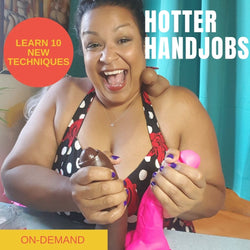 Hotter Handjobs Online Webinar
Want to spice up your handjobs with new techniques?
Handjobs are an amazing way to give pleasure to a partner with a penis! Getting good at giving handjobs is about techniques, communication and getting pleasure from giving.
This class will teach you 10 handjob techniques, how to incorporate lube, bringing in full body arousal through handjobs, feeling your own sexiness while giving, communication and more!
Please note, this webinar contains no nudity or live body demos, this is a presentation style workshop. All genders welcome, no partner necessary!


What is an On-Demand webinar?
On-demand webinars are replays of live classes. Once you have completed your purchase, you will be emailed a link to view the recording of this live class. You have lifetime access to the video, watch it whenever you'd like.
If notes or homework were a part of the class, you will also receive a link to download a PDF.