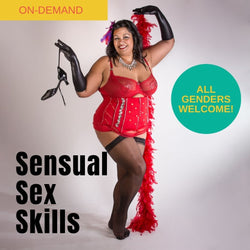 Sensual Sex Skills Online Webinar
Sensual sex isn't just for soft or romantic sex, it brings more confidence, more pleasure and more eroticism - want to learn how to upgrade your sensual sex skills?
Sensuality adds depth, dynamism and deliciousness to our sex life. Whether you like slow and soft or passionate and urgent – sensuality is a flavour that can help you deepen intimacy, arousal and pleasure. Join this workshop to get skills for sensual techniques, sensory play and sexual confidence.
In this workshop we'll cover topics like: What is sensuality?

Discovering sensual techniques and sensory play

Setting a sensual scene for your partner

Learning communication and dirty talk

How to combine kinky and sensual

Navigating body shame and performance anxiety

How to use seduction for hotter sex
Please note, this webinar contains no nudity or live body demos, this is a presentation style workshop. All genders welcome, no partner necessary!
What is an On-Demand webinar?
On-demand webinars are replays of live classes. Once you have completed your purchase, you will be emailed a link to view the recording of this live class. You have lifetime access to the video, watch it whenever you'd like.
If notes or homework were a part of the class, you will also receive a link to download a PDF.