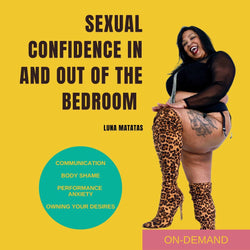 Sexual Confidence In and Out of the Bedroom Webinar
More confidence in the bedroom means more pleasure.
Sex is intimidating. Figuring out how to pleasure your partner, communicating what and how you like it, getting adventurous to try something new without feeling silly – all these worries and more can make us feel like we aren't superstars in bed. From body confidence, to tips for sex skills building and advice on using sexy communication to discover desires, this class will build your confidence for a new approach to sex with your existing or new partners. Learn:

How to build body confidence

Becoming an amazing giver and receiver

How to be a responsive lover

How to navigate negative body thoughts, shame, self-esteem barriers

Tips for exploring your sexuality, sexual interests and attractions

Techniques for practicing sexual confidence inside and outside of sex
Please note, this webinar contains no nudity or live body demos, this is a presentation style workshop. All genders welcome, no partner necessary!
You must be at least 18 years of age to watch the webinar. You do not need to have a partner or any experience to attend the webinar. All genders are welcome!


What is an On-Demand webinar?
On-demand webinars are replays of live classes. Once you have completed your purchase, you will be emailed a link to view the recording of this live class. You have lifetime access to the video, watch it whenever you'd like.
If notes or homework were a part of the class, you will also receive a link to download a PDF.