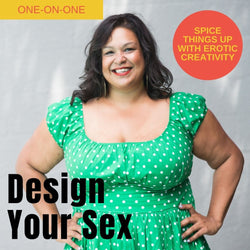 Individual Pleasure Coaching: Design Your Sex
Want to excite your partner with new ideas for the bedroom?  Have an erotic fantasy but not sure how to make it happen? Want to learn dirty talk, sexy scene planning and confidence? Design the sex you want!


Design Your Sex Online Coaching is a one hour, one-to-one session with Luna Matatas to explore things like:
Bringing your fantasies to reality with confidence and creativity

Spicing up your go-to sexual moves to delight and surprise your partner

Setting up a mood for kinky things like dominance and submission, role play or restraints

Finding confidence in initiating sex

Planning a sexy date or adventure for your partner

Keeping things fresh when you're both busy, far from each other or stressed out
....and more!
Design Your Sex Online Coaching supports your erotic desires with erotic creativity. Luna will help you unpack your desire, plan it out, and give you tips for confidence in and out of the bedroom. You can attend a session with or without your partner. All genders welcome. 
All About Pleasure Coaching
My Pleasure Coaching is priced on a sliding-scale. Sliding scales can support people of different incomes to access the same service. Some sliding scales suggest choosing a price within income tiers - I'm going to leave it up to you and what you feel honours my work and your life.
Here is a general guide:
Sliding scale 1 - income under 60K
Sliding scale 2 - income 60-100k
Sliding scale 3 - income 100k+
Occasionally I have capacity to open up Pleasure Coaching spots that are pay-what-you-can for BIPOC, disabled and Trans people with financial challenges - these will be advertised to my newsletter subscribers.
What is Pleasure Coaching?
Pleasure Coaching is not a substitute for therapy or other healing practices. It's a place to unpack barriers, set goals and develop practices so that you can have the kind of sex life you desire.
How do online sessions work?
All sessions take place online via Zoom and you can choose to participate via audio only or audio and video. Sessions can be recorded. You will be provided with notes and homework following the session. 
How do I book a specific date and time for coaching?
Once you have purchased your session, your confirmation email will include a link to Luna's calendar, where you can book your session. Coaching hours vary by day, typically between 11am-8pm EST Monday - Saturday. 
Can I book more than 1 hour?
Sessions can be booked 1 hour at a time or you can purchase a 2 hour session. Pleasure Coaching Sessions must be booked within six months of purchase date.
If you are in a timezone other than North and South America, email Luna at hello@lunamatatas.com for a customized coaching time.
What is the refund and cancellation policy?
Pleasure Coaching sessions are non-refundable. You will receive a Pleasure Coaching Agreement to sign that will outline cancellation policies and fees. 
Confirmed appointments are eligible for rescheduling up to 24 hours before the appointment time using the 'reschedule' option in your Calendly link.

After 24 hours, rescheduling is possible with a $50 fee you will be invoiced for.

No shows are called 10 mins after scheduled calls.

If you are late to your session, unfortunately, we will continue the coaching for the time remaining. No additional time will be added without cost.

If I need to reschedule, I will also give you at least 24 hours notice with an option of no-charge rescheduling.
Have a one-off question?
If you have a quick question that doesn't need a full hour of Luna's time - leave your question anonymously here and Luna may answer it during a Zoom Q & A or on social media. Sign up for my newsletter!