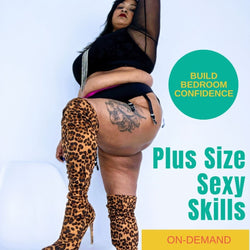 Plus Size Sexy Skills Online Webinar.
Every body is a sexy  body.
Body shame can create barriers to pleasure in the bedroom. We may avoid positions, fantasies and communication that we feel self-conscious in. Set that shame free and make room for more pleasure with Luna Matatas in this 

workshop

. We'll cover topics like:
Navigating body shame

Dating and body positivity

Communication

Shopping for plus size lingerie

Sex toys and size

Sex positions for plus size sex

Dealing with dating

Approaching sexual positions, like being on top or facesitting, with confidence
You'll leave the class equipped with practices, rituals and ideas to help you navigate confidence and physical challenges with more ease. 
Please note, this webinar contains no nudity or live body demos, this is a presentation style workshop. All genders welcome, no partner necessary!
What is an On-Demand webinar?
On-demand webinars are replays of live classes. Once you have completed your purchase, you will be emailed a link to view the recording of this live class. You have lifetime access to the video, watch it whenever you'd like.
If notes or homework were a part of the class, you will also receive a link to download a PDF.